Every Israeli adult is issued a Teudat Zehut (Israeli personal identification) upon turning 16. This document is made up of two parts – a card with personal information about the cardholder and a paper addendum (Sefach) which contains the personal information (name and ID numbers) of their immediate family members (spouse and children).
Israelis use their ID number (Mispar Zehut) freely and it is common to give out your ID number in even the most basic and public of forms. For North Americans who are used to keeping their personal information private, it is helpful to think of your Mispar Zehut as interchangeable with your name.
Below you will find a guide to getting your biometric Teudat Zehut and the timeline new Olim should follow after making Aliyah and receiving their temporary Teudot Zehut.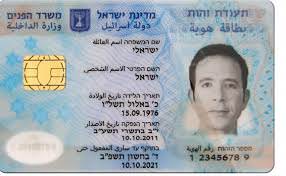 Temporary and Biometric Teudot Zehut
STEP 1:
Book an appointment at Misrad Hapnim for EACH person who needs a biometric Teudat Zehut.
CLICK HERE to schedule an appointment at Misrad Hapnim. You must have an Israeli cell phone number to book the appointment, as they will SMS you with the appointment time.
Note:
1. Soldiers (in uniform) can be processed without an appointment.
2. Someone who has a Teudat Zehut number (Ezrach Oleh, Ktin Chozer, Returning Resident) can schedule an online appointment from abroad pre-Aliyah.
Former A-1 Visa holders cannot schedule an appointment on MyVisit as they will need to meet with the Visa department. In order to schedule an appointment with the Visa department, click here, or email the branch directly. For a list of branches see here.
3. All citizens can schedule an appointment EVERYWHERE in the country and not necessarily only at their local branch of Misrad Hapnim.
STEP 2:
Go to Misrad Hapnim on the assigned day, with your background check(s) with apostille(s), and follow the instructions given to you there. Everyone who needs a Teudat Zehut must be physically present. Ezrachim Olim and Ktinin Chozrim are exempt from bringing their background check(s).
IMPORTANT!
You MUST bring the following documents with you to Misrad Hapnim when applying for your Biometric Teudat Zehut:
1. Original birth certificate (with Apostille)
2. Original marital status certificate, if relevant (with Apostille)
3. Original proof of Judaism (the same document you brought to your Jewish Agency interview)
4. All relevant background checks with apostilles (Ezrachim Olim and Ktinin Chozrim are exempt)
5. Valid foreign passports
6. Everyone who needs a Teudat Zehut must be physically present
STEP 3:
Your Teudat Zehut will be couriered to the home address listed for you in the Misrad Hapnim files 7-10 business days after you applied for it. You must have an Israeli cell phone number as the Misrad Hapnim will confirm your contact information via SMS. You will need to give the courier a code, which was provided to you at the Misrad Hapnim meeting, in order for the courier to deliver your card.
STEP 4:
Diligently check your text messages for the message from Misrad Hapnim asking if you received your biometric Teudat Zehut. Following their directions, confirm receipt of your new ID card. Click here for detailed instructions on how to activate your biometric Teudat Zehut.
Lost or Stolen Biometric ID Cards
Given the significance of the smart ID card and according to the Population Registration Law, residents must ensure the retention of their ID in their possession and under their control at all times, carrying it with them at all times and must not allow anyone else to use it for identity authentication or signature unless by written consent.
In case of loss, theft or misuse of the card by another, the 24-hour call center must be notified immediately at telephone *3450 or the Population and Immigration Authority bureaus during reception hours.
In the event of not retaining an ID card, another person could impersonate the identity of the card holder and may be identified by his name to perform various actions, as well as for verification or a signature using the ID card. Residents will not be liable for any damage caused due to an act committed by another person without their written consent.
Information about Israeli Biometric Documentation:
* Last updated on April 19, 2023 *
How can we help your Aliyah?