Sophie Vardi made Aliyah from England at age 23 after having completed a degree in textile design. I spoke to Sophie to find out how her career evolved over the last fifteen years and how she found her way to flowers.
By Sorelle Weinstein
When and why did you make Aliyah?
I made Aliyah in January 2003, at the age of 23, together with two friends from England after we graduated from university.
Growing up in a small Jewish community in Newcastle, I was extremely involved and active in Bnei Akiva and Aliyah was always on my radar. I yearned to live in Israel where the Jewish calendar is an integral part of life.
What did you do professionally after you finished your degree in textile design?
During my degree in textile design, I knew I wanted to do something creative so I started a small business selling handmade greeting cards which were made out of wire and fabric, and sold them in shops across England.
When I got to Israel, and was studying in Ulpan, I sold my cards to small gift shops and florists in Jerusalem and in Tel Aviv. There was one particular florist I would sell to frequently – Prachim Veganim in Katamon  – and every time I walked into the florist I thought to myself: This is what I want to be doing. I have always loved flowers and design. I convinced the florist to train me in floral design with the idea that I would work for him after. Everything I know about floral design comes from this florist who created a curriculum to train me.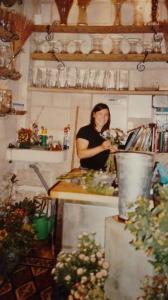 After moving from Jerusalem to Ranaana, where I worked for a year on Moshav Givat Chen at a florist there, I took a break from the flower industry while I was pregnant with my children. I got into a totally different line of work and took a part-time job doing English editing for ICT (International Institute for Counter Terrorism). I was on a research team doing database management tracking terrorist attacks globally. This worked for me for ten years while I was raising my kids while they were little but I knew I wanted to return to the world of flowers.
How were you able to transition to a job in editing when your background was in design?
Olim often do not realize how transferrable their skills are in helping them find employment in Israel. While interviewing for the editing position at ICT, I asked myself why I was even bothering when there were so many candidates who had actual experience in editing and research. Ultimately, though, ICT chose me. I think it was because I thought outside the box and showed my creative thinking in the interview. I applied the same skills that I had learned in textiles to editing. Everything is a blank canvas at the beginning; then you build up layer by layer, adding different colors and textures. When I was looking at a piece of writing, I would approach it in the same way as I would a blank canvas – looking at each layer individually. While working there, two PhD candidates asked me to edit their theses in English. These were subjects that had nothing to do with my art background but were fascinating: the medialization of the IDF and A History of the Syrian Air Force 1947-1967.
What brought you back to flowers after ten years of sitting behind a desk?
Three years ago, I got an opportunity to work once a week with an elderly lady in Modiin. Her children asked that I do flower arranging with her. Working with this woman was a crucial turning point in my life. When I first started working with her, she would hold the flowers and I was able to teach her techniques. Her face would light up every time I came into the room. Flower arranging quite literally brightened up her life. I started sharing pictures on social media of the flower arranging I would do with her. I received amazing feedback from people which gave me the confidence to direct my attention once again to flowers. I had been out of the flower business for a decade while raising my children, and working for ICT, and initially it was difficult to imagine picking up with flowers where I had left off – but people's reactions to my work with this lady were so positive that it gave me the boost I needed. I posted on a local Facebook group for women and shared a few images of bouquets of flowers I had arranged. I asked hypothetically if people would be interested in buying bouquets such as the one in the image for Shabbat. I was inundated with responses and requests. That is how it started.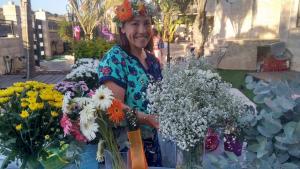 Describe how your business Happiness Through Flowers developed over the years.
While I was working with this elderly lady in Modiin, I got my hands back into the flower business. I was able to practice while creating arrangements with her and built partnership with other florists, giving me access to the names of suppliers. I had no idea my business would expand to the extent it has but thanks to social media, and word of mouth, "Happiness Through Flowers" was tagged and recommended, and before I knew it, my business was blossoming.
I realized it was time to become serious. I called my accountant to set up my business and created a Facebook page showcasing the presentations I had created. I did my very first event 2.5 years ago. This coincided with the project at ICT coming to an end, and I was able to dedicate myself more to my growing business. I also took on a job as a liaison coordinator for One Family, and while there I was given the opportunity to provide flower workshops for terror victims of all ages. You see people walk into the room with PTSD and their faces light up at the sight of the flowers. A study was conducted recently at Rutger's University about how flowers positively impact wellbeing. I would love to delve into this concept more.
While incredibly satisfying, the workshops I provided for One Family were not profitable so I started to do events too. I created flower arrangements for weddings and bar/bat mitzvot. I found a gap in the market and responded to it. I work mainly with Olim who are making smachot but don't have endless cash for flowers. My approach is to provide affordable but unique and artistic flowers that work with people's budgets. My service has become very popular among this market. I work with party planners and florists for bigger events like weddings. At the moment, I do about six events a month but am looking to do more. I also create bouquets for Shabbat and Chagim for people in the Modiin area, and people also call me from outside Israel to create and deliver flower arrangements in the Modiin area for their friends and family.
While I work primarily with Olim, I love working with suppliers and going to the flower market. It's an amazing opportunity to integrate into Israeli society.
Beyond your work at events, you have also initiated flower workshops on a voluntary basis. What kind of workshops do you provide?
Four years ago, around the time of Shavuot, I got an opportunity to go to Shaarei Zedek Hospital in Jerusalem and create flower crowns for sick children in the outpatient clinic. Since then, I have been returning every year and also go to Schneider and Hadassah to do the same there. Last year I brought my daughter Ilana with me to the hospital there – and it was absolutely incredible. In the hospital, you come across every type of person: Jews of different religious levels, Arabs, Christians, patients, doctors, therapists. The language of flowers brings everyone together.
During Operation Protective Edge in 2014, I created a Facebook group called "Defying Hamas Through Creativity." At the time my kids were little, and like other children across Israel, their summer was miserable. Not being able to venture far because of rockets, they were mostly stuck at home and at a loss of what to do. I would do many arts and crafts activities with them, and the purpose of the group was to share ideas among parents of ways of keeping your kids active. Families in the South who spent a large portion of their summer stuck in the bomb shelter were able to enjoy arts and crafts projects in the shelter during sirens, thanks to this group. "Defying Hamas Through Creativity" went viral and helped many endure the war. As well as entertaining the kids and keeping them occupied, art is known for its therapeutic benefits. Because of this group, parents from Modiin asked if I could run a workshop for the kids in my home based on the art projects I was sharing. I had a such a great time with these children.
What was the inspiration behind the name of your business "Happiness Through Flowers"?
On a personal level, the name expresses the happiness I have found in my life through flowers. When I first walked into the florist where I ended up working, Prachim Veganim, I felt such an immediate sense of joy and calmness inside. On another level, it is incredible to bring joy to others – especially those who are suffering, whether it be from physical, emotional or mental trauma – through flowers. In the charitable work I do, when I walk into a room, I see people's faces transform before my eyes. Bringing happiness through flowers means everything to me.
What are your goals for Happiness Through Flowers in the coming year?
In addition to the workshops and events, I would love to provide my flower services to organizations for their events and even team-building days. My business took on a life of its own through word of mouth, so I haven't invested much time in self-promotion, but I am also currently working on my website. I am also extremely excited to be participating in Nefesh B'Nefesh's Go Beyond-South Entrepreneur Boot Camp – watch this space.
How can we help your Aliyah?