Name: Zissie Spivak
Originally from: Boston, but made Aliyah from Queens
Made Aliyah: August, 2014
Lives in: Modiin
Job: Private Chef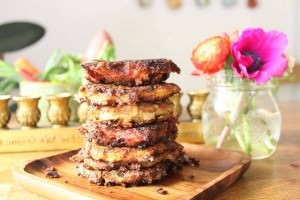 If you are an aspiring chef, or even just a finger-licking, lover of food, culinary expert or private chef, Zissie Spivak is the woman you want to meet!
Zissie, mother of two, is animated, sweet and bubbly, with an extremely pleasant and relaxed demeanor. She is sharp when it comes to her "Chef Zissie" business, and clearly knows her stuff when it comes to culinary cuisine and keeping her clients pleased (and begging for more!)
She is a great example of somebody who successfully transferred and rebuilt her independent career from the U.S to Israel, taking her new environment into account.  Always remaining thankful, Zissie was surprised at her new found success.
Her passion for good food, creativity, and a love for what she does, emanates as we discuss her deliciously sizzling career path…
What did you do before moving to Israel?
I was a private, high-end chef in New York, cooking for people, doing private parties and high holidays. I would create each menu and set of recipes according to the client's palate.  I also taught cooking and 'knife skills' classes all over New York and New Jersey.
How did you transfer your career to Israel?
When I made Aliyah, I wanted to start my business fresh and see what Israel needed from me. I felt like I needed to come, take some time off, settle and figure it out. But, within three weeks of being here, I was fully booked! I didn't even advertise, it was just word of mouth. My former clients told friends who were coming to Israel and business started booming. I found that since Israel is a small place, it is much easier to market yourself and get the word out. Once you make one person happy, they're bound to tell their friends!
As a private chef, here in Israel, I most often cook in clients' homes. Most of my jobs are in the Jerusalem area. My clients are people who come to Israel from the United States for holidays, as well as people who live here. I also teach knife skills classes, do birthday parties and cooking lessons.
How did you deal with change of ingredients available in Israel?
In New York, I always told people not to buy tomatoes and strawberries in the winter just because they are available! Here, everything is seasonal and when it's on the shelf, it's in its prime. So, I like it much more here. I don't have a set of recipes; I create them per client, so I can create recipes using things that are in season. The spices here are worlds better than in the U.S.! The transition wasn't hard. The only thing I really miss are limes!
What's it like to have an independent business?
I really love working for myself, and being my own boss.  I like creating. Being independent allows me to be my own creative outlet and do what I want. By working independently, I know that my clients are treated properly, and every client interaction is under control. I am also a mother of two small children, and it's important for me to be home with them, so I really enjoy controlling my own time.
What do you love most about your job?
I love projects that involve creative thinking. Going to the shuk (market), seeing what's there, and creating something amazing!
Being able to share menus and recipes of visually beautiful, flavorful and healthy food is important to me.  I love imparting that to  my clients, many of whom don't have the time or creativity to eat properly.
What is the most challenging part of your job?
Schlepping and cleaning up!
How important is Hebrew to your job?
Right now I don't really work in Hebrew, as my clients are mainly English speakers. But my Hebrew is getting a lot better. I don't allow myself to speak English whenever I can. I want to learn all of the foods and spices in Hebrew. I think it's important to learn the words of my industry, even though my direct clients are English speakers.
Is there good earning potential in this industry?
Yes! I've had more work here than in the U.S.  I have found that there is more potential for me in Israel.
What kind of training do you recommend to be a chef?
I went to culinary school. I find people value you more if you went to culinary school. However, talent and understanding flavors and food is more important than formal education. Just like an instrument—you either have it or you don't. Hands-on experience is much better than schooling.
What advice would you give to someone looking to get into the culinary industry in Israel?
Understand what you're good at and expand on it. In this country, because it's so small, you're at an advantage in this industry. If you please one person, they are going to talk—and word gets around fast here! In Israel, the food is amazing, the prices are good and your clientele is Jewish—the kosher market is right here!
How do you feel about living in Israel?
I literally dreamt about being in Israel since I was four years old. To fulfill a lifelong dream and at 28 years old, I really feel like the luckiest person in the world. Of course there are hardships, but the fact is that I get to live here and I've been so lucky in my industry. I wake up every morning and take a breath of fresh air—it's so much better than Queens!
For more information and to connect with Chef Zissie, visit: www.chefzissierecipes.com
Was this article helpful?
Let us know so we can provide a better experience to other Olim!
How can we help your Aliyah?