Packing Your Home for Aliyah
By: Julia Weinberg, Interior Designer
I made Aliyah from Michigan in July of 2021, with my husband and 4 children. Once we decided we were moving, I researched for months what to bring and what NOT to bring. I am so glad that I did, because we used every piece of furniture that we brought, and it fit perfectly! Planning to start a new life in Israel can be overwhelming. However, the more you prepare in the months leading up to Aliyah, the better off you'll be. Packing wisely will save you money and make your landing much softer.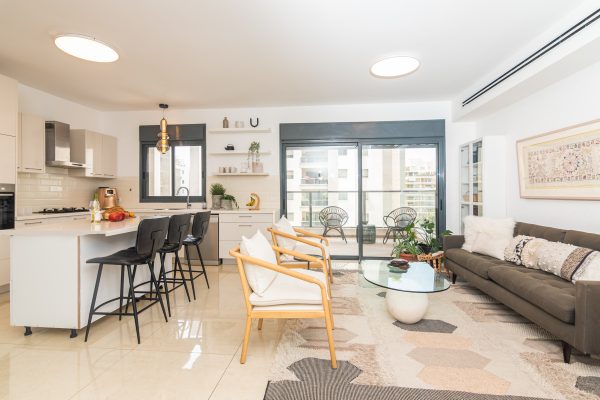 Israelis love to entertain but generally live in small spaces. Therefore, creative space-saving ideas are a must! Make sure that you review the layout of your home in Israel prior to sending your items. Otherwise, it's better to wait to buy in Israel. Another factor to consider is that "open concept" layouts are popular in Israel. Therefore, I recommend making sure that any living and dining room furniture that you bring is coordinated. This will help your home feel cohesive.
Factors to Consider: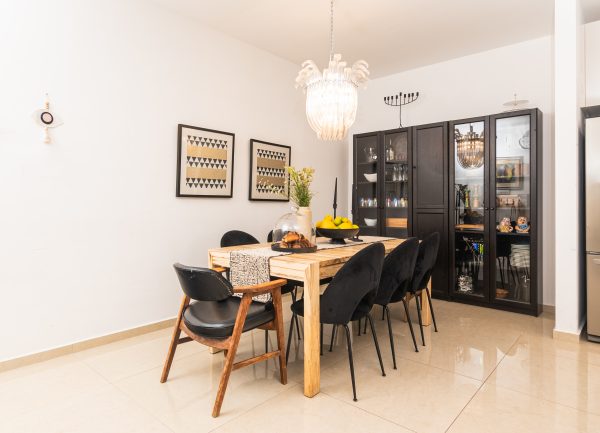 Dining tables with extensions are a must. If you don't already have one, don't worry! Furniture stores in Israel have a large selection of dining table options, so there is no need to order in advance. Make sure the table has self-storing leaves.
A standard-sized sofa will usually work with most layouts. Avoid bringing a sofa with a chaise or a sectional, as it may have the wrong dimensions or orientation for the room. Finding a sofa that converts to a sleeper will always come in handy.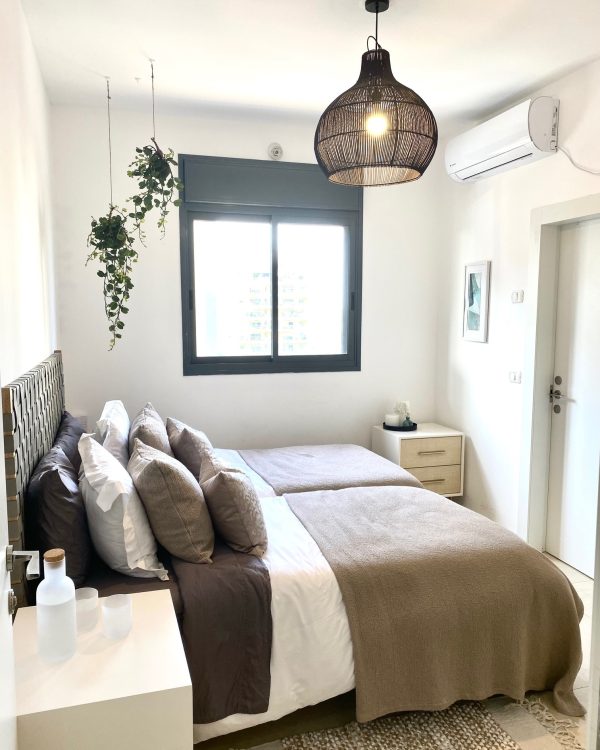 Bedrooms require careful planning. They are often small, and only have room for one full-size bed and a freestanding closet to fit comfortably. Most homes in Israel do NOT come with built-in shelves or walk-in closets. Twin-size bunk beds usually will fit. Queen and King-sized beds may take up the entire room. If you are bringing American beds, bring sheets for them, as Israeli sheets will not fit properly.
Nightstands sold in Israel are usually small and limited in colors and finishes (usually black, white, or natural wood). If you're not particular about furniture styles, wait to order them after you move in. If you are particular (like me), bring the ones that you love on your lift, while keeping in mind that you may not be able to fit both in the room for which they are designated. The same applies to desks.
If you are planning to live in an apartment, consider limiting your lift to the following furniture:
1 extendable dining room table
6-8 dining chairs that coordinate with your table
All the storage and shelving pieces that you can fit
Pair of matching accent chairs
1 sofa without a chaise (possibly a sleeper)
Coffee table
Coordinating rug up to 8' x 10' and framed art
Mattresses and sheets
Bed frames
Nightstands only if you love them
Do NOT bring:
A sectional
Rugs bigger than 8' x 10'
Lighting
Appliances
Cheap holiday decorations
More than 1 large toy box full of toys in good condition
Anything you don't need or LOVE
Anything you haven't used in over a year
Electronics:
Avoid bringing lighting on your lift. Plugging in a lamp with a converter is a fire hazard, so it's best not to use them. Transformers are safer but are big and bulky. 110V chandeliers and sconces require adapters to accommodate Israeli 220V lightbulbs. I opted to do this for a vintage chandelier I loved, but it was quite a hassle to get the right parts, not to mention the long wait time for the special-order adapters to arrive. Do not bring appliances unless you want to plug them into a bulky transformer every time you use them. I recommend that you buy appliances in Israel, where they can be serviced if needed, and replacement parts are readily available.
Pots & Pans:
If you are particular about pots, pans, and dishes, bring only the ones you love. Replace your beat-up items with new ones, if you can afford to do so. There are plenty of home supply stores with good quality items in Israel, but shopping will be one more thing you'll have to take care of after you've made Aliyah. I'm an avid baker, and it was very exciting to use the new baking pans I had purchased months earlier. It was like receiving a present from the "past me." I had also ordered new dishes for my lift and chose to keep everything in their original packaging. This ensured that it was packaged well for transit. However, it was a pain to Tovel them after we arrived. Finding out where a Keilim Mikvah was and transporting them to-and-from the apartment added to the difficulty of unpacking. If you plan to Tovel new dishes and are good at drying them well and repacking them, do so before sending them.
If you have extra room on your lift, bring items that you need, which are significantly more expensive or hard to find in Israel (e.g., vanilla extract, cranberry sauce, English books, etc.). Most lift companies charge a flat rate for the container; whether it is full, or empty doesn't matter. Keeping this in mind, make an "If There's Room" pile of items. Then if there is space on your lift, you may as well bring it.
I hope this information helps! Making Aliyah is not an easy move, but well worth it in the end. The most important takeaway is that minimalism is the name of the game. You will be much happier in the long run if you bring less. Remember to only bring the items that you truly need, and the items you truly love.
May your new home in Israel be filled with peace, health, and Brachot!
About the Author: Julia Weinberg is the Owner and Principal Designer of Julia Robin Interiors, a boutique interior design firm based in Israel and the US. For more helpful interior design advice and inspiration, visit https://www.juliarobininteriors.com/, or follow her on Facebook at https://www.facebook.com/JuliaRobinInteriors, She offers remote and In-person Interior Design Services, with a discount for New Olim. She can be reached via email at

[email protected]

.
Packing Your Home for Aliyah
Rebekah made Aliyah from Silver Spring and has built a business helping people get to the bottom of what's important to them and gain control of their lives through organization. Her experience moving house multiple times, combined with a degree in design, led her to create Balagan Be Gone and help people along the way.
We were happy to sit with Rebekah as she gave our Olim some tips and tricks about packing for Aliyah. Hint: measure the space it will go in before you ship your American washing machine!
How can we help your Aliyah?