After four years of living in Israel, though I can speak Hebrew conversationally, I have always wanted to properly study Hebrew to truly master the language. With a very busy household and a bunch of kids, trying to keep up with my work-life balance, I couldn't see how to fit in a few hours of learning in my local Ulpan. That's why the Ulpan moving online was great for me.
Thanks to the Covid-19 pandemic, teachers have adapted their face-to-face jobs to go online, and our world is more digital than ever before. Zoom has taken online learning from old-school to cool school.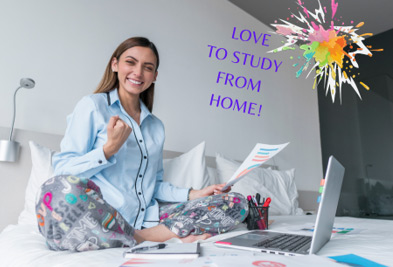 My Ulpan was able to offer me a customized program that I can expand when I have more time. It was a good option for me, as I couldn't commit to a full academic year. The intensive Ulpan study program was a major eye-opener. I learned all the small things that make one sound more fluent. One thing that I found very useful was the teacher helping me perfect my pronunciation of words in Hebrew and teaching me the popular slang words.
Advantages of studying in an online Ulpan:
Recorded material: The classes are all recorded, and it is very useful to listen over if you missed something. There were many times I could not attend, and I was able to go over the full lecture when I had a chance.
Flexible hours and days: You can book private or group classes at times that suit your schedule. Options for classes in the day or night.
World view: Meet new people and study with students from all over the world. Its like having a second family with common goals.
Age is only a number: We typically think most people studying Hebrew have just left high school, but this is not the case. The older generation often has more time and patience to take on improving their Hebrew skills. They are the ones that have the extra time to complete their homework after class finishes.
Study Hebrew with a native Israeli speaker: The intricacies and meanings of words in social conversational Hebrew language are very different from school-taught Hebrew.
Levels: You can find a class that suits your level and goals! Is your goal to speak Hebrew? To read and write in Hebrew? To move to Israel? To study and understand this phenomenal ancient language?
I feel that studying through an online Ulpan was a great option for me. It makes so much sense to have the flexibility to study in the hours I have available, without spending my precious spare time driving to a venue. I realize that studying face to face would definitely have other benefits that I am not getting, but that's for another post!
This pandemic has changed the way I think and do things. You can achieve your Hebrew-speaking goals like me, very slowly and steadily by trying something new and studying online!
This guest post was written by Jade Edelstein of Sprino Marketing Agency. The content presented here represents information and opinions of the guest writer and not Nefesh B'Nefesh.
Want to jump-start your Hebrew learning? Check out Nefesh B'Nefesh's upcoming free Hebrew learning events!
How can we help your Aliyah?