Ra'anana was founded in the early 1920s as agricultural settlement by a group of New Yorkers. Since that time, the City of Ra'anana has only grown in popularity among Jews from North America and the rest of the world.
Ra'anana's population has grown from nine residents in 1922, to 300 in 1948, to its current number of over 80,000. Ra'anana has also come a long way from its agricultural origins to a well-developed city that employs thousands and also serves as a bedroom community for Tel Aviv. The city is well-planned, well-managed, and has won the award for being the Most Beautiful and Clean City the last several years.
Local Employment
Many of the residents work in the greater Tel Aviv area, while some travel further distances. There is a well-defined telecommuter community within Ra'anana, as well as people with home businesses.
Ra'anana itself is home to Amdocs, RedHat, Waze, HP, Eric Cohen Books, and many other companies of all sizes.
Education / Youth
The city has a wide variety of ganim, catering to virtually every interest, language, and religious background. There are a variety of choices of both secular and religious schools on the elementary, junior and high school levels. The city also has exceptional programs for preschool children with special needs.
It is worth noting that the Tali school in Ra'anana is one of the most outstanding in the country. This school is particularly suited to those coming from the Soloman Schecter school system.
Schools in Ra'anana are comfortable accommodating the various special needs of their students. Extensive services are offered for native English speakers and the schools endeavor to smooth the transition of English-speaking Olim to the Israeli system. Services are provided to children with special needs both through the school system and through the nonprofit organization Beit Issie Shapiro (www.beitissie.co.il), located in Ra'anana.
Youth groups for all denominations exist in the city.
Transportation
There is great public transportation for those traveling throughout the center regions from Ra'anana.
There are train stations in both Herzeliya and Kfar Saba which will easily get you to the greater Tel Aviv area. There is an express bus to Tel Aviv on the Metropolin line.
Olim Services
Ra'anana has an excellent absorption center, which offers a wide range of services both for those who are living there and those living in the larger community. (Click here for specific information on the absorption center.) The center offers Ulpanim on a variety of levels, daycare, and counseling services.
Synagogues in Ra'anana play a special role in welcoming new Olim. They provide an opportunity for social interaction and a forum for exchanging absorption strategies.
There is after-school assistance for elementary school students. The Ostrovsky high school houses the city Ulpan for high school-aged children. As well, a two-week summer Ulpan is offered ye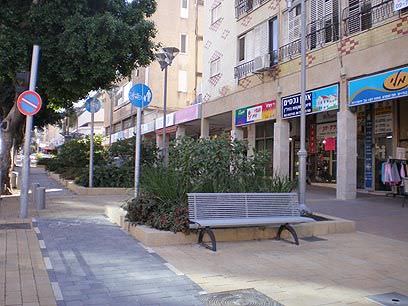 Amenities / Services
Ra'anana provides a wide range of cultural and entertainment options. It has a movie theater, a library (with a well-stocked English section), country clubs, pools, nightclubs, and a mall. Commercial establishments located in the center of the city are all closed on Shabbat, while establishments located in the industrial section outside of town are open.
There are beautiful playgrounds every few blocks and Park Ra'anana (Ra'anana's "Central Park") contains a man-made lake and amphitheatre. The park also has a section designed specifically for children with special needs, called Park Haverim.
The municipality of Ra'anana sponsors it's own orchestra, the Ra'anana Symphonette.
The Matnasim (community centers) are lauded by the residents for their vast array of programming – for residents of all ages.
Community and Religious Life
Ra'anana's population is religiously diverse. Approximately 25 percent of the residents identify themselves as religious, with about 85 percent of those residents being Religious-Zionist. There is also a small Haredi community with it's community Kollel – Kehilos Bnei Aharon, and sizable Conservative and Reform communities. At last count, there were 63 synagogues, including those of every type: Ashkenazi, Sefaradi, Yemenite, shtiebele, Conservative, and Reform. Most of the Ashkenazi, Conservative and Reform synagogues have sizable populations of English speakers. Ra'anana also has many learning opportunities available for adults, including the Midrasha (Torah study group), the Jewish Outreach Center at the Ohel Ari synagogue, and the well-established MaTaN Institute for women.In addition, there is an active Raanana Community Kollel. All of these programs offer shiurim and programs in English. There are also two Hesder Yeshivot. You can find shiurim for people who work North American hours.
Real Estate
Average price for purchasing a:
3 bedroom (apartment) – 1.75 to 2.3 million NIS
4 bedroom (apartment) – 2.1 to 2.6 million NIS
Semi-detached 4 bedroom (house)- 3 to 4 million NIS
Single family home- begin at 3.8 million NIS
Average price for renting a:
3 bedroom (apartment): 5000 to 6000 NIS
4 bedroom (apartment): 6000 to 8000 NIS
Semi-detached 4 bedroom (house): 8000 to 10,000 NIS
Neighborhoods
Ariel, Bilu, Yavne
On the north side of the city Ra'anana is expanding it's borders by building 1500 apartments. These are expected to be finished by 2016 and will first be offered to residents of Ra'anana.
Profile Updated: January 2016