Passport Photos
Please send TWO digital color scans of a passport photo for each family member aged 16 and above who is making Aliyah, in addition to any pictures previously submitted to the Consulate or the Jewish Agency.
If you are making Aliyah on an NBN group, charter flight, or designated flight, please ensure that you bring with you, in your carry-on luggage, four passport photos for each family member who is making Aliyah. Homemade passport photos will not be accepted.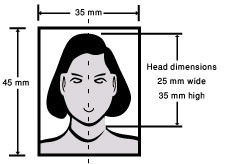 The photos should be in color, 35mm wide by 45mm high, front view, ears showing and on a white background.